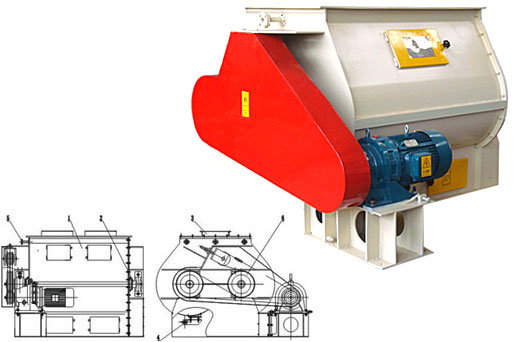 Name: SSHJ Series Double Shafted Paddle Mixer
Application : SSHJ Series Double Shafted Paddle Mixer is widely used to mix flour, granular, and slice, irregular and slimy materials in the feed, grain, chemical, pharmaceutical industries.
Performance Features :
1. The mixing homogeneity CV≤5% within 50~90 seconds;
2. Large loading changeable range: the coefficient of the loading changeable range is 0.3~0.8;
3. No segregation: within one minute after mixing uniformity, no grading phenomenon happens and no segregation caused by the difference of weight, size, etc;
4. Fast discharging and little residue: the bottom is four-leaf opening structure;
5. Large number of liquid additives: even if 30% liquid is added, materials can still be mixed uniformly.
Technical characteristics :
Parameters Models
Volume (m3)
Capacity (kg)
Mixing time(s)
Mixing homogeneity (CV≦%)
Power (kw)
Weight (kg)
SSHJ6
6
3000
50~90
5
45
8780
SSHJ4
4
2000
5
30
5960
SSHJ2
2
1000
5
18.5
4620
SSHJ1
1
500
5
11
3510
SSHJ0.5
0.5
250
5
5.5
1500
SSHJ0.3
0.3
150
5
3
1000