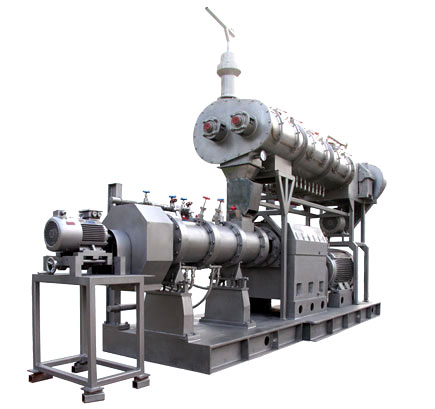 Name: Twin Screw Extruder
Application:
The machine can produce extruded aquatic feeds and pet food, it can also be used for the extrusion of various raw materials and the production of feeds for piglet, chicken, curiosa bird or beast, dairy cattle, finishing cattle etc. Additionally, it is applied for the pre-treatment of such oilseeds like soybean, cottonseed, rice bran, peanut and so on in edible oil industry.
Performance Features:
Adopting a five-step reduction gear box, in which the original bearings from Germany are used.
Adopt an extended double-shaft differential conditioner made of stainless steel.
Φ0.5mm-Φ50mm floating and sinking feeds with uniform particle size and in diversified shapes can be produced without any powder contained.
Over 18% fat can be contained in feed formulation without any effects on extrusion performance.
More uniform and higher ripening degree of the extrusion feed produced.